Accpac Vietnam : The conference " 2012 Vietnam Insurance – Towards customer – centric insurance" was held by Ernst & Young Vietnam on August 22 in cooperation with the Ministry of Finance's Insurance Supervisory Authority.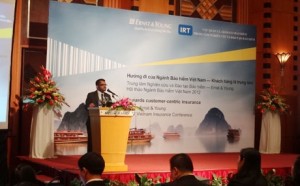 According to an insurance customer survey released earlier this year by Ernst & Young, the combination of increased expectations and accessible technology meant that the insurance industry now faced more demanding customers and those service providers who fail to make a rapid move to a more customer-friendly business model risk being left behind.
Vietnam's insurance industry experienced double-digit growth in the past few years and is forecasted to have similar grow trajectory in the coming year. The underpenetrated insurance market in Vietnam offers a sumptuous growth opportunity for domestic and multi-national insurers. With 70 per cent of population below the age of 40, Vietnam has a sounded base to develop an attractive young affluent segment. Together with the strong GDP growth and growing number of the middle class, there is a year for insurance services.
Saman Bandara, Vietnam insurance leader at Ernst & Young, said: "Both the number of new policies and first-year-premium of new business grew faster than total policies and gross written premium in the last five years. The market experienced a shifted trend from traditional products to investment products. As such, consumers are becoming more sophisticated. Their expectation is constantly evolving and the insurance industry has not always managed to keep pace."
Ernst & Young global insurance customer survey found that, while there are variations in customer attitudes and behaviours around the globe, there are some remarkably consistent underlying themes about what consumers want and where they expect more from insurers. "Being customer-centric is the key to develop and sustain business in a highly competitive market like Vietnam," Bandara said.
The survey also pointed out that 89 per cent of Asia-Pacific consumers said personal interaction was essential.
"While the number of agents recruited continues to increase, with CAGR of 27 per cent, we envisage distribution channels for the industry in Vietnam will become multi touch-points catering for different segments. Online, bancassurance, mobile and social media will be deployed for targeted campaigns. This will be more effective given the some of the younger customers are becoming more self-directed," said May Knight, Partner of Ernst & Young Asia-Pacific Advisory Services.
Besides, Ernst & Young's experts emphasized the important role of speed of claim process as always on top of the list for improvement. While good claim process may not directly render loyalty, 16 per cent of the surveyed respondents replied that a bad claim experience will surely encourage switch.
"Claim plays an important part in the insurer's operations model. Though it is more crucial for general than life insurers, a well-managed claims process enables the insurer to deliver high performance. A number of insurers in the region have already invested in technologies to transform their customers' claims experience," said Ian Cheng, director for Ernst & Young Advisory Services in Asia Pacific.
Changing customer behaviour coupled with evolving regulatory environment, especially on consumer protection, are driving insures to take a more proactive approach to grow their business. "Insurers that align themselves to a truly customer centric model will find this transition to the new customer & regulatory regime less painful, and will gain competitive advantage," said Bandara.
Nguyen Trang (vir.com.vn)
ERP Sai Gon – Sage 300 ERP Vietnam – Sage Accpac Vietnam
Tag: accpac vietnam, sage 300 ERP, sage accpac, sage accpac demo, sage accpac download, sage accpac intelligence, sage accpac support, sage accpac training, sage accpac vietnam, sage accpac vietnam, sage accpac vietnam, sage accpac vietnam, accpac vietnam, accpac vietnam, accpac vietnam, sage vietnam